---
Iglobes wishes to congratulate the Journal Développement Durable et Territoires on its 20th anniversary of providing significant contributions toward Francophone environmental sciences. Arnaud Buchs came to Tucson to do field work and is co-editor in chief of this special 20th anniversary issue where you will also find his article Communs.

---
Date: May 3, 2023
Time: 1-2pm
Location: Marshall building, 845 N Park Avenue 5th floor Marshall building room 531
SOCIAL NORMS AND COMMUNITY ENFORCEMENT OF COOPERATION
Social norms are a powerful tool in influencing prosocial and pro-environmental behavior. They represent informal rules of behavior in groups and societies that lead individuals to behave in a certain manner due to peer pressure. Social norms have a normative component, which represents the appropriate social behavior of the reference group, and a descriptive component, which represents the effective behavior of the reference group. Despite the numerous articles about social norms and their implementation, our knowledge of the various mechanisms and dynamics associated with them is still incomplete. We conducted a lab experiment to empirically measure the evolution of social norms and cooperative behavior over time in different frameworks. We implemented different treatments by varying the composition of the groups, giving unequal types to the participants. We also incorporated a communication mechanism that reduces uncertainties and improves participants' coordination. Our experimentation allows us to answer three questions. First, we looked at how social norms of cooperation change over time as a function of inequality and communication. We found an immediate negative impact of the inequality on social norms, while communication supports norms over time. Then, we studied how inequality and communication affect the relationship between social norms and cooperation. We found that inequality changes the way in which the components of social norms are used in the cooperative decision process. Lastly, we examined how social norms can predict cooperative behavior. Here, we were able to predict 75% of the behavior in each treatment with a model that integrates the costs of not respecting the perceived social norms. The predictive ability of the model for all treatments highlights the fact that communication mechanisms can be summarized as a change in perceived social norms. Finally, our model allowed us to simulate the effect of implementing norm-nudges by revealing the local social norm, which supports the idea that social norms could be an equilibrium selection mechanism in a multi-equilibrium framework.

Boris Wieczorek is a Behavioral and Experimental Economist at the Centre National de la Recherche Scientifique (CNRS). He is currently a final year PhD student working on the relationship between social norms and heterogeneities to address climate change issues. He studied how social norms evolve and explain prosocial and pro-environmental behaviors over time in different environments, through online and laboratory experiments. This year, he is at the University of Arizona as a visiting scholar, applying his work in the field by implementing Norms-Nudge to reduce water consumption in Arizona's drought area.
---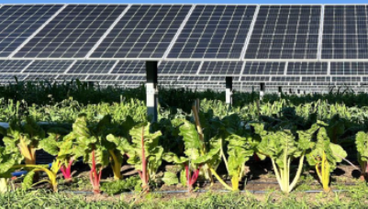 Dates: April 25 to 27, 2023
Time: 8:30 a.m. to 4 p.m.
Location: Biosphere 2
The University of Arizona and the French National Center for Scientific Research (CNRS) are collaborating together on this 3 day workshop organized by the France Arizona Institute for Global Grand Challenges on the topic of agrivoltaics at scale to create a more sustainable food, energy, and water future. For more information….
---
Date: April 19, 2023
Speaker: Brian O'Neill
The environmental justice frame (EJF) is a key feature of successful grassroots mobilization against the uneven distribution of environmental problems. At the same time, it is increasingly significant to academics, governments, industries, and NGO's who are promoting various versions of "just transitions," often using infrastructure projects that should usher in a more sustainable, and supposedly socially minded, future in the context of climate change. Through an ethnographic case study of desalination (producing potable seawater) in California, this talk problematizes both popular and academic manifestations of the EJF. Findings indicate community groups and non-governmental organizations make normative environmental justice arguments about the high costs of desalination, community disruption, and industrial burden. 
By contrast, organized labor and public sector actors align with the private sector to promote desalination, using a competing series of arguments about local independence, regional responsibility, and employment. Disentangling these discourses and position-takings, the talk describes how claims in favor of desalination are a part of what this paper calls a cooptation of the environmental justice frame. As such, the talk will begin a discussion regarding the extent to which this phenomenon may have wide reaching consequences for climate politics (e.g., energy sector debates), because it occurs in an increasingly relevant context, specifically the public-private partnership infrastructure financing models used for large scale climate adaptive projects. Linking to recent discussions about the Green New Deal's techno-optimism, eco-apartheid, and the return of high modernism, the analysis presented observes how infrastructure initiatives can ultimately facilitate community division in favor of a class bias for luxury commodities. Interpreting this socio-ecological problem through a political economic lens, this research calls scholars, activists, and decision-makers to attend to how environmental (in)justice politics can take on surprising meanings amid the expansion of financial capitalism.

Brian F. O'Neill's research and teaching draw primarily on engagements with environmental sociology, political ecology, and political economy. The underlying question throughout his empirical work is: what is the nature of the recent, intense interest in "green" practices invoked by climate adaptation strategies? His research has appeared in such publications as Environment and Planning E: Nature and Space, International Sociology, the Journal of World-Systems Research, Capitalism, Nature, Socialism, and VertigO: La revue électronique en sciences de l'environnement.
---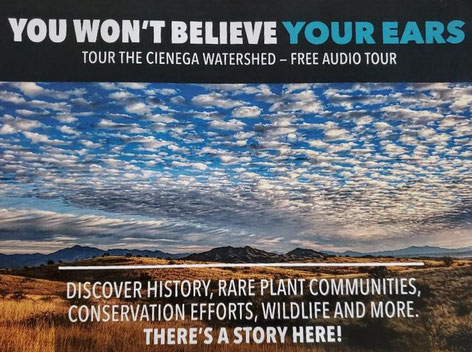 The Cienega Watershed — located southeast of Tucson, Arizona — is the basin bounded by the Whetstone Mountains to the east, the Santa Rita Mountains to the west, the Canelo Hills to the south, and the Rincon Mountains to the north. The upper elevations of the watershed include oak and ponderosa pine forests while lower elevations are comprised of magnificent saguaros, desert scrub, rolling grasslands, oak-studded hills, and the lush riparian corridor along Cienega Creek. Water drains from these mountains toward the Cienega Creek Valley.
We hope many of you will take this opportunity to visit the watershed! To enjoy the tour, you just need to download the TravelStorys.Com App. Then select Cienega, and the tour will upload to your device.  The virtual tour of the Cienega Watershed was partially funded by Iglobes.
---
Date: April 12, 2023
Speaker: Frédéric Keck
In Hong Kong, unvaccinated chickens have been used as sentinels to monitor the circulation of avian influenza viruses since the emergence of the H5N1 virus in 1997, which could potentially cause the next pandemic if it successfully transmits from birds to human and between humans. As the number and size of chickens has dramatically increased in China since the domestication of the wild jungle fowl (Gallus Gallus) 7000 years ago, and its transformation into the industrial globalized chicken, the zoonotic potential of avian influenza viruses is one of the environmental disasters anticipated by experts through techniques of preparedness, even more so as the H5N1 virus has recently spread to the American continent through wild birds. How can the concept of sentinel be used to describe other environmental disasters as they mobilize not only global experts producing techno-science and preparing for future disasters but also local actors producing citizen science and relying on indigenous forms of anticipation? Returning to one of the origins of sentinel devices, the canary in the coal mine, I will ask how the emergence of dust storms caused by the extraction of copper mines can be compared to the emergence of zoonotic viruses caused by the production of industrial chickens. Is it the same form of causality, and can it be modeled and anticipated through the same techniques?

Frédéric Keck is a Senior Researcher at the Laboratory of Social Anthropology (CNRS-Collège de France-EHESS). After working on the history of social anthropology and contemporary biopolitical questions raised by avian influenza, he was the head of the research department of the musée du quai Branly between 2014 and 2018. He published Avian Reservoirs. Virus Hunters and Birdwatchers in Chinese Sentinel Posts  (Duke University Press, 2020) and (with A. Kelly and C. Lynteris) Anthropology of Epidemics (Routledge, 2019).
---
Date: April 5, 2023
Speaker: Laura Goffman
As communities tried to make sense of COVID-19 in 2020 and 2021, media outlets around the world reached for illustrative examples of past pandemics. In Qatif, a city on Saudi Arabia's Persian Gulf coast, memories of a 1970 quarantine surfaced in local media as the pandemic unfolded. This presentation investigates why COVID-19 prompted public remembering of a state-imposed cholera quarantine in Qatif in 1970 by reconstructing formative assemblages of disease and popular politics in postwar Arabia.

Laura Frances Goffman is an Assistant Professor at the School of Middle Eastern & North African Studies at the University of Arizona. Her research focuses on the intersections of public health, empire, state building, and social change in the Persian Gulf and Arabian Peninsula. She is committed to bringing the Gulf region into discussions of world history, especially narratives of how migration, gender, citizenship, and state formation intersect with the movement of disease.
---
Listening to the surroundings rather than looking at the landscape. That is what Anne Sourdril, CNRS researcher and ethnologist, and Luc Barbaro, ecologist, are doing while traveling around Southern Arizona, capturing human, animal and meteorological sounds. They are using the concept of soundscapes to study ecosystems, the impact of human noise on fauna, as well as the relationships that tie the people to their environment.
Discover the 2nd short documentary done in Arizona by CNRS Journalist Sonia Collavizza on Anne and Luc's research project, broadcasted on CNRS Le Journal and YouTube (in French).
With the participation of Anne Sourdril (CNRS), Laboratoire dynamiques sociales et recomposition des espaces (LADYSS), Luc Barbaro, Dynamiques et écologie des paysages agriforestiers (DYNAFOR), Laura Couchman, Tucson Audubon Society and Carolyn Shafer, Patagonia Area Resource Alliance (PARA).
---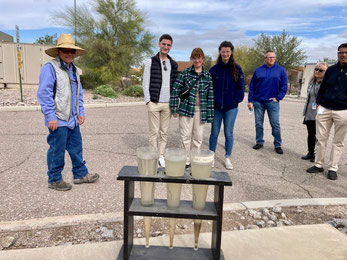 March 16, 2023
IGLOBES visiting scholars Marine Bobin, Anne-Lise Boyer, Arnaud Buchs, Sophie Guiraud, Gabriel Guyader, Hanan Sfalti and Pauline Urbain, took a field trip to the Tres Rios WRF.
In Tucson, the Treatment Division operates and maintains the 7 treatment facilities that receive, treat, and dispose of over 62 million gallons per day of sanitary sewage. The Tres Ríos treatment plant treats approximately 30 million gallons of wastewater per day. It underwent a major upgrade and expansion and will be able to handle the projected population needs to the year 2030, while operating 24-hours per day, 365 days a year. 
---
Sonia Collavizza, CNRS Reporter, came to IGLOBES last fall to film several research projects, specifically those focused on water issues. 
France is currently suffering from an unprecedented winter drought while other regions of the world have been dealing with extreme lack of water resources. The documentary brings you to Arizona where a mega drought has been on-going for the past 20 years. At the University of Arizona, American and French researchers are studying the intermittent rivers: fragile streams that are no longer flowing continuously. See the documentary on  CNRS Le Journal or YouTube. 
With the participation of: Anne-Lise Boyer (CNRS), Labex DRIIHM (EVS), CNRS/Ecole Normale Supérieure de Lyon, Larry Fisher (University of Arizona), Observatoire Homme-Milieux International (OHMI) Pima County, School of Natural Resources and the Environment, University of Arizona, Cienega Watershed Partnership, Dennis Caldwell (Caldwell Design), Cienega Watershed Partnership, Ian Tomlinson (propriétaire de Vera Earl Ranch).
---
Date: March 15, 2023
Speaker: Marie Vidal
How do people negotiate the intensification of identity discourses at the turn of the 2020s, in a North American context of heightened political fractures and economic inequalities? 
Drawing on a seventeen months' PhD fieldwork, this presentation is built on recurring stereotypes and figures of excess [Cohen, 1998] heard during the ethnography ("old white lady", "white suburban middle-class moms"). These stereotypes are conducive to contextualizing the research while situating its location amidst regional variations (rural California vs the coastline, Northern California vs Southern California, California vs the rest of the US).
After tracking the historical genealogies of such stereotypes and, more broadly, of the notion "whiteness", this paper will delve into the ways in which they are used in situation today. The aim is to enlighten new social divisions around education, in order to then outline the profile of the "10%'s elite" [Piketty, 2019].

Marie Melody Vidal is a PhD candidate in Anthropology at the School of Advanced Studies in the Social Sciences (Paris), in the Center for North American Studies. She is also part of the Contributing Editors Program of the Society for Cultural Anthropology.
---
The 2023 Social Sciences Lecture Series is in full swing! On March 1, Pascal Marichalar, a visiting scholar at IGLOBES, talked about the history behind the astronomical observations and the installation of giant telescopes, notably in Hawaii. See topics for next sessions....

---
March 1, 2023
Speaker: Pascal Marichalar
From the 1950s, various transnational groups spearheaded efforts to build new giant telescopes because of recent developments in research and instrumentation. The decade saw the development of a new subfield per se of astronomy, the science of "site selection", around the figure of Dutch-American astronomer Gerard Kuiper, based at the University of Arizona from 1960. One particularity of the science of site selection was that it was no longer constrained by geography: for the first time, astronomers agreed that the planet was the limit.
At the beginning of the 1960s, drawing on a specific set of instruments, protocols and objectives, Kuiper and his colleagues "discovered" the two best sites in the world for optical astronomy: Hawai'i's volcano Mauna Kea, and the peaks of Chile's Atacama desert. At the same time, the Spaniard Francisco Sánchez Martínez identified what would be recognized as the third best site, Roque de los Muchachos on La Palma, Canary Islands. To this day, all major optical telescope projects are still sited on one of these three locations. 
The main premise of my work is that cutting-edge astronomical observation is made possible not only by the exceptional quality of a site, but also by a complex and mostly invisible social infrastructure which brings together labor, the economy and post-colonial politics. Through a material history of science and an intersectional sociology of labor, this talk will describe the regimes of land tenure and the social division of work that allowed these instruments of big science to thrive in post-colonial settings. In particular, it will study the frequent controversies surrounding new telescope projects on all three of the sites, which reached a recent climax with the 2019 standoff on Mauna Kea, Hawai'i, about the Thirty Meter Telescope (TMT) project.

Pascal Marichalar is a sociologist and historian of science and labor, based at the Centre National de la Recherche Scientifique (CNRS) in Paris, France. On his current research theme, he published an article in The Journal of Pacific History (2021) and another in History and Anthropology (2021). He previously studied issues of industrial disease and working-class history, and was a Fulbright Scholar at the Columbia University Mailman School of Public Health (2017). His last book is Qui a tué les verriers de Givors? Une enquête de sciences sociales (Paris, La Découverte, 2017).
---
February 1, 2023
Speaker: Arnaud BUCHS, Associate Professor, School of Political Studies, University Grenoble Alps
COMMONING FOR WATER SECURITY IN THE ALPS (FRANCE). REVEALING PLURALISM WITHIN THE COMMONS
Alpine regions, known as the "water tower of Europe", are particularly affected by climate change (Hock et al. 2019): as water scarcity episodes become more frequent, water use conflicts emerge in specific places and times. This illustrates the need to find solutions that are not only corrective and punctual to sustainably articulate water resources and uses. 
The objective of this research is to question the capacity of common management (Ostrom 1990), and more specifically of commoning (Linebaugh 2008), for the definition of "securing water paths" i.e. sustainable and adaptive scenarios articulating water-related uses, resources and infrastructures in the Vercors High Plateaux Nature Reserve (French Alps), a 17,000 ha protected area, where landscapes have been shaped to a large extent by age-old pastoralist activity (e.g. opening up of landscapes). 
By referring to a "social-ecological economics of water" (Buchs et al. 2020) and to mixed analytical-deliberative methods (Allain and Salliou, 2022), we developed a collaborative research to reveal pluralism within the common. Qualitative and quantitative data collection is coupled with the Q methodology (Grimsrud et al. 2020). Three visions of the common expressed by water users are then translated into scenarios.
---
---